The Abu Dhabi Quality and Conformity Council is the government entity concerned with issuing a certificate for personal's services that meet Abu Dhabi Occupational Terms and requirements as specified by the regulators. Occupational terms include the competencies, capabilities and skills that must be available in an individual to practice a specific profession or craft.
The Council develops conformity schemes in collaboration with the regulatory bodies and various industrial sectors in Abu Dhabi, this aims to raise the quality of the performance of individuals and ensures the safety of the service provided by them. A certificate of conformity is granted for personals' services after passing the required examination and fulfilling the requirement of the conformity schemes.
The certificate of conformity indicates that the person who holds this certificate fulfills the relevant professional standards approved by the regulatory bodies in the Emirate of Abu Dhabi to practice the profession or craft.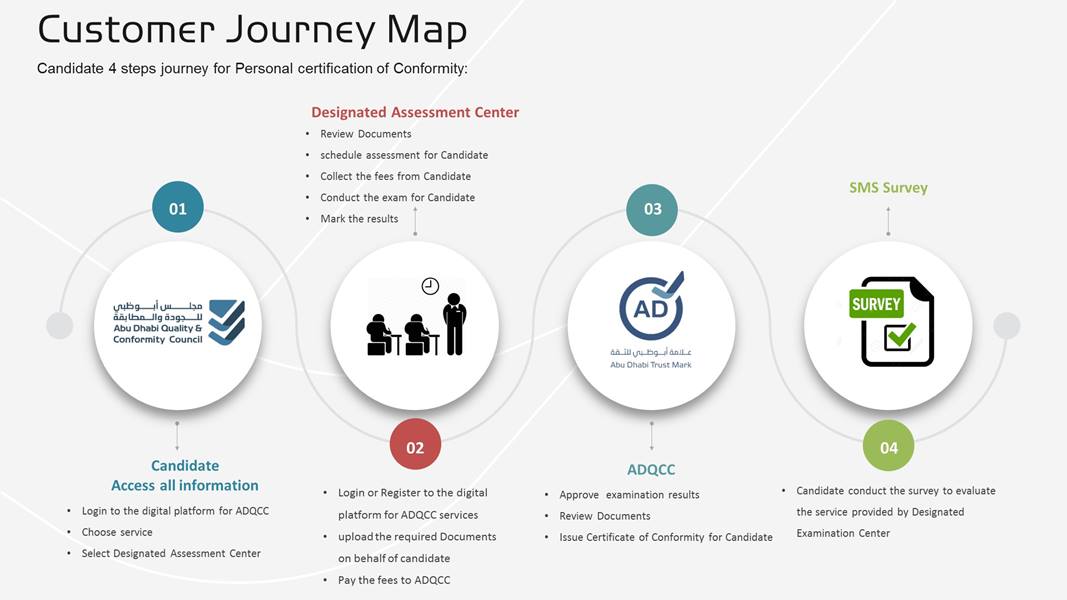 External Link
Impartiality policy
External Link
Policy on granting, maintaining, recertifying, expanding and reducing the scope of the certification, and suspending or withdrawing the certification
External Link
Security policy
External Link
Terms and Conditions Document for conformity certificate for individuals' services
External Link
Application form
Issue Certificate of Conformity for Personals working in Electrical Professions
External Link
Issue Certificate of Conformity for Personals working in Electrical Professions
Issue Certificate of Conformity for Personals working in Public Health Sector
External Link
Issue Certificate of Conformity for Personals working in Public Health Sector
Issue Certificate of Conformity for Personals working in the Protection Services Sector
External Link
Issue Certificate of Conformity for Personals working in the Protection Services Sector
Issue Certificate of Conformity for Personals working in School Transport
External Link
Issue Certificate of Conformity for Personals working in School Transport
Issue Certificate of Conformity for Personals working in Waste Management
External Link
Issue Certificate of Conformity for Personals working in Waste Management
Issue Certificate of Conformity for Personals working in Cleaning Drinking Water Tanks
External Link
Issue Certificate of Conformity for Personals working in Cleaning Drinking Water Tanks